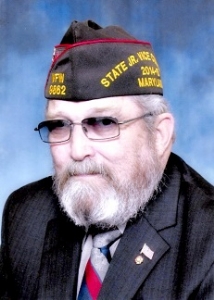 Welcome to the Department of Maryland web site. I hope that you are able to find all of the information, forms, and program data that you may need during this administrative year.
This is the year for this Department to come back and reestablish itself as one of the top
Departments in the country. A quality and aggressive membership program, with participation in all the core programs, will be required.
The first priority is the individual and VFW families. This will mean an increase in full family activities. All of the Council of Administration meetings, except one, have been moved to Saturdays to allow Sundays to be spent with families, football or both. All posts are urged to submit an events schedule so that the events may be posted to the calendar of events listed on a separate page.
A fairly new program, Student Veterans on Campus, focuses on the college or technical school veteran. All posts should look to make inroads with the student organizations and join them in community service projects. These veterans are the life blood of this organization, and required for its continued growth.
The special project for this year is the
Special Operations Warrior Foundation
. This organization provides secondary education to the dependents of deceased special operators, SEALS, Green Berets, Combat Controllers, and others. Special Operations Warrior Foundation has a small staff of 14, and operates with only 4.4 to 5.5% overhead. If each member were to donate $2.00 we could easily surpass the established goal.
There are some exciting events and special programs that will be announced later in the year. Read about them in the newly reestablished issues of the
Combat Veteran
.
The object of this administration is three-fold: do the required work; help posts that are struggling; and have fun doing it.
In closing, remember, "choose the harder right instead of the easier wrong",
In comradeship,
T. C. Williams
Department Commander